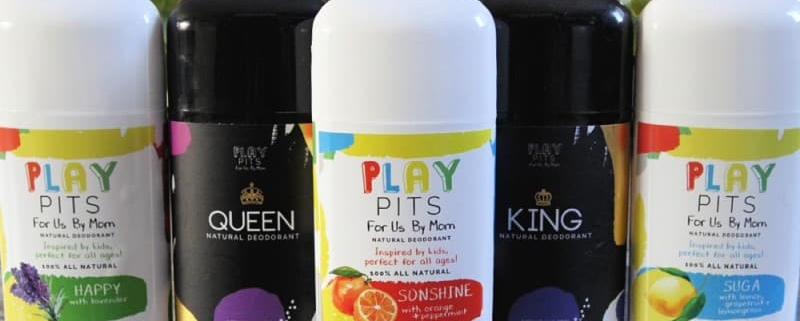 BRB Stories: After Devastating Setback, Play Pits Takes First Place in Kapitus' BRB Contest!
Congratulations to Play Pits, an African American-owned producer of specialty deodorants made from all-natural ingredients, for being named the winner of Kapitus' inaugural Building Resilient Businesses (BRB) contest. The Atlanta-based family business will receive $100,000 and 8 hours of complimentary educational consulting/advising sessions on its business. 
Embodiment of Resilience
For Chantel Powell, creator and CEO of Play Pits, resilience isn't just a trait, it's a necessity. The four-year-old company suffered through the pandemic shortly after it was created – a period in which nearly 40% of all black-owned businesses were forced to shut down. As if that weren't enough, in September 2022, its Atlanta-based headquarters and warehouse (where all of its inventory was stored) were completely burnt to the ground in a fire – a catastrophic event that left Powell and her family reeling.
In the aftermath, however, instead of giving up, Powell and her family members are determined to rebuild the business and will use their $100,000 prize to help do so, making  Play Pits the very embodiment of everything for which BRB stands..
"It's by the grace of God that we won the Building Resilient Businesses Contest because in the last few weeks, Play Pits has proven that we are the personification of a resilient business," said Powell.
A Family Commitment
After spending nearly six years as an executive assistant at Viacom International Media Networks and graduating Summa Cum Laude from Clark Atlanta University with a degree in fashion design and merchandising, Powell had picked up the skills she needed to pursue her passion for launching her own small business. All she needed was an innovative idea and a product to sell.
That idea came in 2017 when she picked up her six-year-old son, Kameron, from basketball camp. Like most active kids coming home after attending a sweaty sports camp, Kameron's body odor hit Powell hard. 
"My exact words to him were, 'You smell like a grown man!'" said Powell. She was determined to make him wear deodorant but didn't want to use the typical ones that were filled with toxic chemicals. When she searched for deodorants that used natural ingredients, she found them to be boring products that she knew she would have to fight her son to get him to use them. 
Powell spent days in her kitchen using organic ingredients to make an all-natural deodorant that she felt comfortable with her son wearing. To her surprise, Kameron loved the deodorant and suggested that she make it for all his friends at camp.
"After my initial refusal, I quickly reconsidered once it hit me that Kameron had a genius business idea!" she said.
Hard Work and Self-Sufficiency
Like many seeking to achieve the American Dream, Powell put in a lot of hard work and $3,500 of her own money to start Play Pits. With no outside investments, she spent nine long months perfecting the secret formula to create the first all-natural deodorant free of aluminum, parabens, synthetic fragrances and other harsh chemicals found in most deodorant products, and one specifically designed for active kids. 
She officially launched Play Pits in March of 2018, and success came quickly for the new business. Powell saw 497% growth after just 20 months in business, with over 12,200 units sold. Play Pits soon had both out-of-state and international customers, and distributed through both Amazon and Target, as well as directly.
Powell also worked hard by engaging in one of the toughest types of marketing campaigns a business can engage in: word-of-mouth. Powell works extremely hard to market the company through social media and customer recommendations. She also doesn't keep herself on the company payroll. "Every dime made is completely due to us bootstrapping our business, getting out there and hustling. It has been the best method for us to advance and grow Play Pits," she said.  
"Quietly, Play Pits has become the nation's largest 100% black-owned deodorant company," said Powell. "This grant money is going to be invested in scaling our company by allowing us to purchase larger amounts of raw goods and materials at reduced costs, increase our marketing efforts into youth and professional sports, and to add knowledgeable professionals to help us meet customer demand by expanding our product line and increasing revenue."  
More Than Just Survival
As Play Pits recovers and rebuilds from the devastating fire, its mission to educate parents about the
dangerous ingredients found in commercial deodorants and to provide a healthier, all-natural solution for their children, remains the same. The business is still seeking to grow both domestically and internationally, and to never forget where it came from. Since launching, Kameron has been named the company's Chief Inspiration Officer and is still active in sports, while Powell continues to work hard to market and sell the company's products. 
"As we start recovery from this tragic event, this grant money is needed now more than ever as it will play a key role in helping us to rebuild, replenish lost inventory/materials, equipment etc., while still allowing us to continue our initial expansion plans," she said.  
https://kapstaging.com/wp-content/uploads/2022/11/Play-Pits-All-Natural-Deodorant-For-Kids-Adults-1.jpg
496
800
Vince Calio
https://kapstaging.com/wp-content/uploads/Kapitus_Logo_white-2-300x81-1-e1615929624763.png
Vince Calio
2022-11-18 14:39:29
2023-07-28 12:36:27
BRB Stories: After Devastating Setback, Play Pits Takes First Place in Kapitus' BRB Contest!