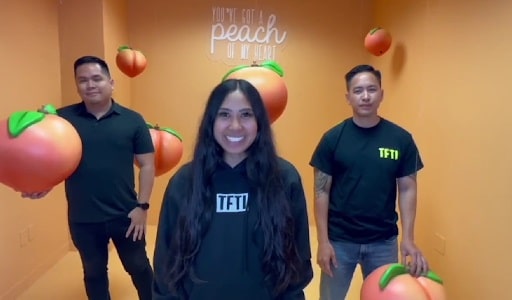 Congratulations to TFTI Experience, a Houston-based small business that takes "selfies" to a whole new level, for winning the 2nd place prize in Kapitus' inaugural Building Resilient Businesses contest! TFTI, which stands for "Thanks for the Invitation," will receive $50,000 to help grow their business
Picture Perfect
TFTI launched its first "selfie" exhibit at the Marq'E Entertainment Center in Houston in 2018 and became an immediate success. The business creates specially designed rooms that are ideal places for individuals, families and friends to take selfies. TFTI then took their unique business idea to showrooms in Atlanta and Dallas. 
After surviving the worst of the COVID-19 pandemic, TFTI took off by opening a 5,000 sq. ft. space in
the Galleria in Houston which features 15 custom-designed rooms that provide unique experiences and backdrops for  customers to take the perfect selfies. 
"They say a picture is worth a thousand words, and if that's the case, then we've created libraries worth of unforgettable memories with all of our guests," said Bryan Andaya, founder and partner at TFTI. "TFTI is the original photo experience concept and we're ready to create more. We are family-owned and started by first-time entrepreneurs who have learned so much since our opening back in 2018. All we need is the fuel to grow. Our name TFTI stands for the popular social media acronym 'Thanks For The Invite,' and we definitely want to thank Kapitus for inviting us to this wonderful opportunity."
The Upside-Down
No, we're not talking about the parallel universe in Netflix's hit show "Stranger Things," but we are referring to one of the coolest rooms at TFTI's space at the Galleria – the room that mimics an upside-down apartment. The ceiling consists of hardwood floors and a fully decorated Christmas tree. Wrapped boxes and basic furniture are bolted to the ceiling. Photos of guests are turned upside-down, giving the appearance that they are defying gravity. 
There's also the cherry blossom room where guests can sit on a swing, as well as the space station room where customers can put on astronaut gear and pretend that they're floating in a space station. These are just some of the creative rooms TFTI has created for its guests. 
"People come just for the upside-down room," said Andaya, adding that the room will change once the holiday season is over. He added that the "Love Room" has been used for marriage proposals, and the entire space has been rented out for parties. The creativity of the business is still flourishing, despite the bumpy economy. 
Expanding the Lens
Andaya said that the company will use the $50,000 to enhance the specialized rooms by installing high-quality photo booths in them. 
"TFTI plans to use part of the winning funds to start building photo booth systems in our interactive rooms," said Andaya. "This will allow guests to take high-quality photos and receive them via text message or email on the spot. Perfect for guests who may not have the latest phone or [hightest] quality camera."
Part of the prize money will also be used to enhance the company's marketing strategy, said Andaya, noting that online advertising is the company's biggest challenge. 
"Our biggest challenge currently is the rising cost of online advertising spend. Most of our guests can be found on popular social media platforms, but with online privacy changes and rising costs, they are becoming more difficult to target," he said. "We work to overcome this by doing continuous organic postings, reaching out to local influencers in our area for partnerships and focusing on interacting with potential customers organically by commenting and liking their posts."
Moving Forward
Andaya and his partners plan for continued success and expansion for TFTI, which was a natural offshoot of another company Andaya launched nearly 12 years ago, Lucky Shots. The company rents out portable photo booths that can print out custom, branded photos and has been used for events for big clients such as the Houston Texans, Houston Astros, CITY CENTRE and the Houston Rodeo.
Learn the stories of all of our small business winners:
BRB Stories: After Devastating Setback, Play Pits Takes First Place in Kapitus' BRB Contest!
BRB Stories: Relying on Faith and Passion for Business Success
https://kapstaging.com/wp-content/uploads/2022/12/TFTI-Experience.jpg
300
512
Vince Calio
https://kapstaging.com/wp-content/uploads/Kapitus_Logo_white-2-300x81-1-e1615929624763.png
Vince Calio
2022-12-13 06:00:20
2023-07-28 12:44:43
BRB Stories: Creating Libraries-worth of Unforgettable Memories!